The other day I had a pretty intense craving for chocolate and peanut butter…it was a need that just had to be met! Luckily for us, we almost always have chocolate chips, peanut butter and coconut oil on hand 🙂
You may also appreciate, as did we, that these are super quick and easy to make. Not only that, but you know exactly what's in these….no added items with names you can't pronounce! There's also significantly less sugar without sacrificing taste.
Adding just a touch of coconut oil makes for a creamy product that's easier to pour. I'm also a big fan of using parchment baking cups. The cups pop out easily without sticking, and they also give the appearance of R***'s peanut butter cups 😉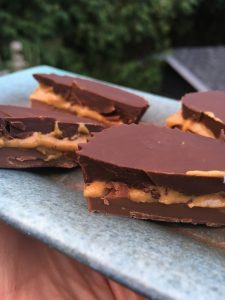 4 Ingredient Two-Tone Peanut Butter Cups
3/4 cup dark chocolate chips (we like "Enjoy Life" brand)
3/4 cup milk chocolate chips
4 teaspoons coconut oil
1/2 cup natural peanut butter (no added sugar)
Using a double boiler (or a bain-marie), melt the dark chocolate chips with 2 teaspoons coconut oil. When melted, spoon into parchment-lined muffin tins (makes 12). Place in fridge until chocolate starts to set – approximately 10 – 15 minutes. Meanwhile, melt the milk chocolate with remaining 2 teaspoons coconut oil…no need to clean out the pan from the dark chocolate chips….save yourself a step!
When the dark chocolate has started to harden, spoon 1 – 2 teaspoons of peanut butter onto each. Return to fridge while melting the milk chocolate. Once peanut butter firms up (about 5 – 10 minutes), spoon melted milk chocolate on top of peanut butter mixture. Return to fridge until set. These are best kept in the fridge….enjoy!