03 May

Warm Greek Salad and Tofu Feta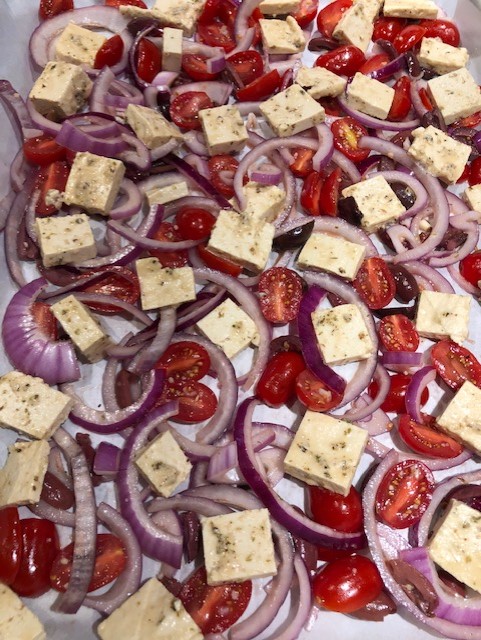 A recent article in the Globe and Mail featured a warm Greek chicken salad recipe from food writer Ricardo Larrivee. His most recent cookbook is called Sheet Pan Everything and is devoted to yummy recipes that require minimal equipment, which also means minimal clean up – that's an idea that I can support!
I was intrigued to try his recipe; however, I wanted to make it plant-based. I thought of making tofu cutlets to replace the chicken; however, I elected instead to make a plant-based feta. My son Dan has mastered making tofu feta, so I thought I would give it a try. We were so impressed with not only how easy and delicious it turned out to be, but also the incredible cost-savings, too ($2 for the tofu feta vs $8 for the same quantity of regular feta). Yay!
For best results with making tofu feta, you want to allow for at least 24 hours for the flavours to develop, so plan ahead. 🙂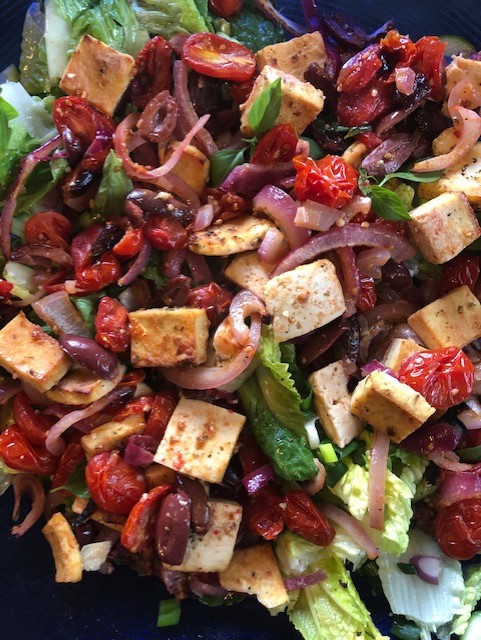 Warm Greek Salad with Tofu Feta
Salad
Romaine or greens of choice – torn
2 small cucumbers – cubed
2 cups cherry tomatoes – sliced in half
1 purple onion – thinly sliced
1/3 cup pitted and sliced Kalamata olives
400 g of tofu feta, cubed *see recipe below*
Dressing
2 tablespoons olive oil
2 tablespoons lemon juice
1 tablespoon Apple Cider Vinegar
1 tablespoon maple syrup
1/4 teaspoon Dijon mustard
1/4 teaspoon dried oregano
1 clove garlic, minced
1/4 teaspoon salt
pepper
Tofu Feta – recipe by Green Evi
400 grams of tofu – rinsed and pressed
2 tablespoons white miso
2 tablespoons lemon juice
1/4 cup apple cider vinegar
1 tablespoon olive or avocado oil
3 tablespoons water
2 tablespoons nutritional yeast
1 tablespoon oregano (optional, I used 1 teaspoon dried)
1/2 teaspoon garlic powder
1/2 teaspoon salt
pepper to taste
Rinse tofu. Cut into four even pieces and place between two clean tea towels. I place a towel on a baking tray, then place the tofu and cover with another tea towel. I then place another baking sheet on top, and use my cast iron pan on top of that for added weight. Press for a few hours if possible. Once pressed, cut into cubes. Set aside.
Prepare marinade by combining miso through to seasonings. Mix well and add to tofu cubes. Cover and refrigerate for at least 2 hours. Ideally marinate for 24 – 48 hours for optimum flavour.
For the dressing, whisk ingredients together in a small bowl, or simply add to a mason jar, seal firmly and shake until ingredients emulsified.
For the salad, simply toss the lettuce leaves and cucumber and set aside.
Toss the tomatoes, olives and onion with a small amount of your dressing. Place the tofu feta, tomatoes, olives and onions on a parchment-lined baking sheet. Roast for about 8 minutes at 400 degrees. Broil for a minute or two to lightly brown the tofu. Add to your lettuce and cucumber and toss with remaining dressing. Garnish with fresh herbs if available and enjoy!