24 May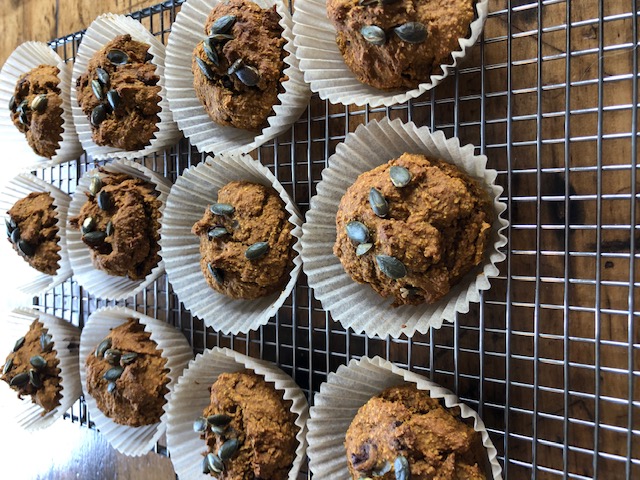 This recipe is thanks to my friend Judy. Judy and her husband follow a plant-based, whole-food, low-fat diet, and she shared these yummy muffins with us following a (physically-distanced) hike. They're super satisfying, easy to make and have NO wheat, dairy, eggs or oil! 
I restrained myself and did only a tiny bit of tinkering…I added a titch more salt, 3/4 teaspoon ground ginger, 1/8 teaspoon of ground cloves (more next time), and topped them off with lightly toasted pumpkin seeds. Judy often adds chopped dates in lieu of chocolate chips and pumpkin pie spice mix to hers. The recipe calls for pumpkin puree, which is not found in the canned fruit or vegetable section of your grocery store, but in the baking section (to save you from endless wandering). I used my blender to prepare the dry ingredients, and elected to then transfer the dry ingredients to a mixing bowl before adding the wet ingredients. The instructions have you prepare everything in the blender, but not all blenders are capable of working with this density. 
This recipe is courtesy of the Ordinary Vegan 
1 3/4 cups gluten free oats

 

1 teaspoon baking powder

 

1/4 teaspoon baking soda

 

1/4 teaspoon salt (I used 1/2 teaspoon)

 

1 teaspoon cinnamon

 

1/4 teaspoon ginger (I used 3/4 teaspoon)

 

1/4 teaspoon nutmeg

 

*I added 1/8 teaspoon ground cloves*

 

1/3 cup chocolate chips

 

2 flax eggs = 2 tablespoons ground flax + 5 1/2 tablespoons water, OR, 4 tablespoons aquafaba liquid from canned/cooked chickpeas

 

1 cup pumpkin puree (NOT pumpkin pie filling)

 

1/2 cup maple syrup

 

1 teaspoon vanilla

 

option: lightly toasted pumpkin seeds

 
Preheat oven to 350 degrees

Pulse oats in blender until finely ground. Add baking powder, baking soda, salt and spices. Pulse again until blended.

Add pumpkin puree, maple syrup, flax eggs and vanilla. Puree until smooth. *I elected to mix wet and dry ingredients in mixing bowl.

Stir in chocolate chips or dried fruit of choice. Spoon into prepared muffin cups – makes 12.

Top with pumpkin seeds if you wish.

Bake for 20 – 25 minutes or until toothpick inserted comes out clean.

Cool in the pan or on a wire rack.

Enjoy!