03 May

Black Bean Burgers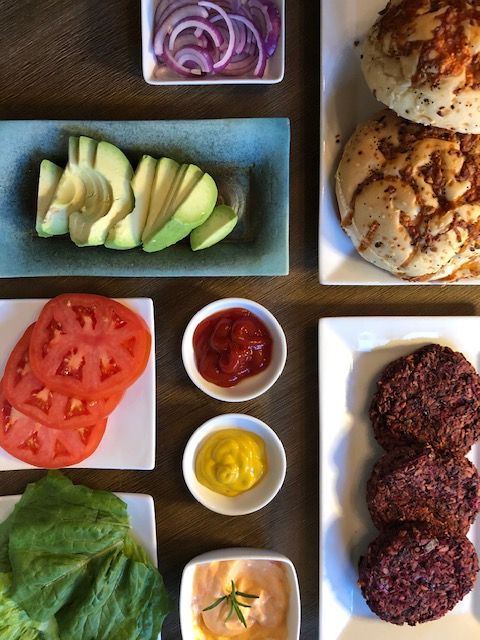 Happy days – it's barbecue season!
As with many recipes I post/create, it's often a combination of craving meets what I have on hand. On our way back from filming some classes, I had the inspiration to create a black bean burger. I knew we had lots of black beans on hand as well as some leftover roasted sweet potatoes. I was sure that it would be easy to find or create a recipe with these basics on hand. I did a quick Google search and found a promising recipe. I took a lot of liberties with the recipe, and we really enjoyed the final result. I will include the original in a link, and post our version as well.
One suggestion that I really appreciated is to lightly bake the beans prior to adding to the other ingredients. This is to prevent the burgers from being mushy – good call! They also suggest placing the patties on aluminum foil if you choose to grill them. If you do this I would suggest lightly oiling the foil so that the patties don't stick.
I chose to use our pre-made DIY taco seasoning in this recipe. I highly recommend having this on-hand, and I've included the link to the recipe I enjoy.
Black Bean Burgers
2 can black beans – rinsed and drained
1 tablespoon oil of choice
2 cups diced onion
3 cloves garlic
1/2 cup of roasted/steamed sweet potato
1/2 cup bread crumbs
2 teaspoons Taco Seasoning (see link below)
2 tablespoon tomato sauce (recipe called for ketchup, but I had sauce on hand)
2 eggs (or flax "egg" if prefer vegan)
1/2 teaspoon salt
Place rinsed beans on parchment-lined baking sheet. Bake at 325 degrees for about 15 minutes. While beans are baking, saute onion in 1 tablespoon of oil until softened and/or lightly caramelized. Add garlic for final few moments (the sooner you add the garlic, the milder the "garlic taste").
Add bread crumbs and seasoning to bowl of food processor. Pulse a few times and then add sweet potato and onions. Pulse until well combined, and then add black beans. Continue to pulse until well mixed. Measure out 1/3 cup portions and form into patties.
Grill on barbecue (350 – 400 degrees) for about 8 minutes per side or bake in 375 degree oven for 10 minutes per side. Serve with your favourite toppings and enjoy!
Here's the link to the original recipe:
https://sallysbakingaddiction.com/best-black-bean-burgers/
Taco Seasoning Mix
https://www.gimmesomeoven.com/homemade-taco-seasoning-recipe-taco-seasoning-mix/
We really like this mix and appreciate how quick and easy it is to make!