15 Dec

Curried Roasted Acorn Squash Soup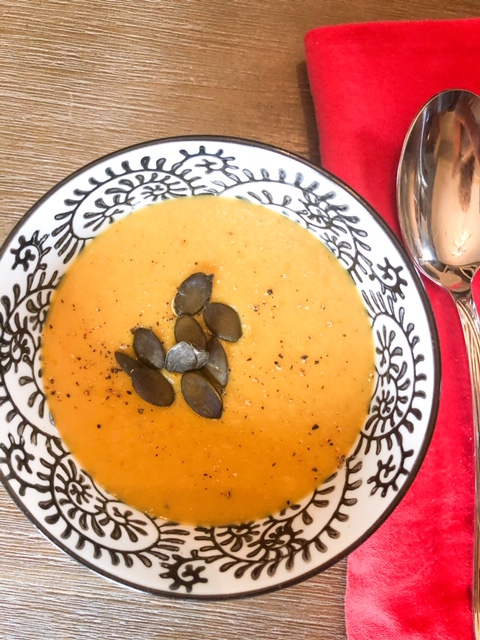 Curried Roasted Acorn Squash Soup
While out for a glorious hike with my friend Judy, we spent a considerable amount of time talking about food. Judy is an accomplished endurance athlete and needs a lot of plant-based fuel! She had recently made a squash soup with lots of curry and coconut milk. I was so inspired to recreate it that we stopped at a local, small grocer to pick up a squash.
I roasted the squash with a little oil, maple syrup and salt and pepper for about an hour. The squash was tender and just starting to nicely caramelize. I sautéed  onion and garlic and added the seasonings. This time I was a little more generous with the curry powder and curry paste. We love a robust curry, so you may wish to modify the recipe to suit your taste. You may notice that I didn't use vegetable broth. The short answer is I ran out! To compensate for no broth on hand, I simply added a little turmeric, onion and garlic powders, plus a little nutritional yeast. It worked out well, and you may wish to experiment with that option if you don't have any stock on hand.
This served as part of a lovely dinner and lunch a few days later. I love using local seasonal produce…let's support our farmers everyone!
Curried Roasted Acorn Squash Soup
1 medium acorn squash = 4 cups of cooked squash
1 tablespoon maple syrup
1 tablespoon olive oil
salt and pepper to taste
1 tablespoon olive oil
2 smallish onions, chopped = 1 1/2 cups
2 cloves garlic
2 tablespoons curry powder *or less if you prefer a milder soup*
1 tablespoon red curry paste
3 cups water
1 teaspoon salt
1/4 teaspoon turmeric
1 teaspoon onion powder
1 teaspoon garlic powder
1 tablespoon nutritional yeast
1 can of full fat coconut milk
Cut acorn squash in half and scoop out seeds. Mix maple syrup and olive oil together well and coat the flesh of the squash. Season with salt and pepper. Place cut side up on parchment-lined baking tray. Roast at 375 degrees F for 50 – 60 minutes. Squash should yield easily when pierced with a fork and should start to caramelize a bit. Remove from oven and allow to cool for a few minutes before handling.
Sauté onion in 1 tablespoon of olive oil until softened and translucent. Add garlic. Add seasonings until nicely fragrant. Scoop out flesh of squash halves. You should have about 4 cups. Add to onion mixture. Stir to incorporate seasonings. Add water and coconut milk.
I prepared the soup in my Instant Pot and set it on slow cook for about 5 – 6 hours. You could also prepare this in a stock pot, bringing to a simmer for 30 minutes or so. Prior to serving, blend with an immersion blender or blender until desired consistency is reached. Season to taste. Pairs nicely with pumpkin seeds. Enjoy!