22 Oct

Curry in a Hurry

With Dan stressed out about exams and needing easy and nutritious food, one of the first recipes I sent him was his favourite Curry in a Hurry. The boys absolutely love this recipe. I love, too, that it takes just minutes to prepare.

This can be served on its own or over rice. This can also be made in one large saucepan and eaten right away, or dumped in a slow cooker to be enjoyed later. I love how the flavours deepen when allowed to simmer over several hours, and, of course, I love how the house smells so warm and welcoming.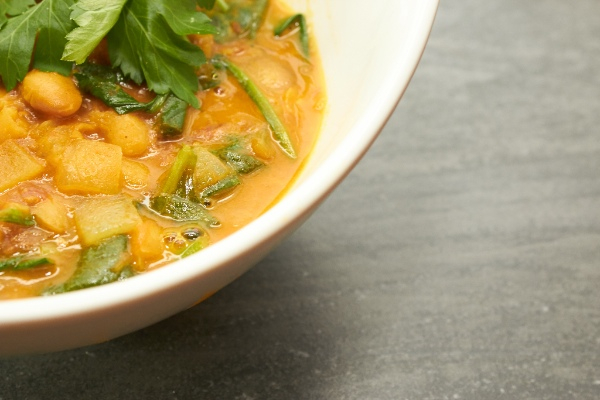 Curry in a hurry, or slow and mellow
1 tablespoon coconut oil
1 onion, diced – approx 1 1/2 cups
3 cloves garlic – minced
1 tablespoon fresh ginger – minced
1 tablespoon good curry (I like Kurundu)
1 teaspoon sea salt
1 tablespoon maple syrup (I like McCutcheon's)
1 28 oz. can diced tomatoes (I like Eden Organic, Harvest Sun and Vita Bio)
2 cans chickpeas (you could also use cannellini, navy or whatever you have on hand)
1 can full-fat coconut milk
4 cups spinach *optional*
We are lucky to have an Instant Pot. It has a sauté feature, which I just love. So, when I make this in the Instant Pot, this is what I do:
Melt a tablespoon of coconut oil, or use avocado or olive oil. Add chopped onion. Once onion softens, add garlic, ginger, curry and salt. Switch to "slow cooker" mode and add remaining ingredients except spinach. I typically set on low for 8 – 9 hours; however, you could set on high for as little as 3 hours, and it would still be tasty. If using spinach, add just prior to serving. It's nice served over rice, but you could also just enjoy as is.