28 Jun

Doggie Treats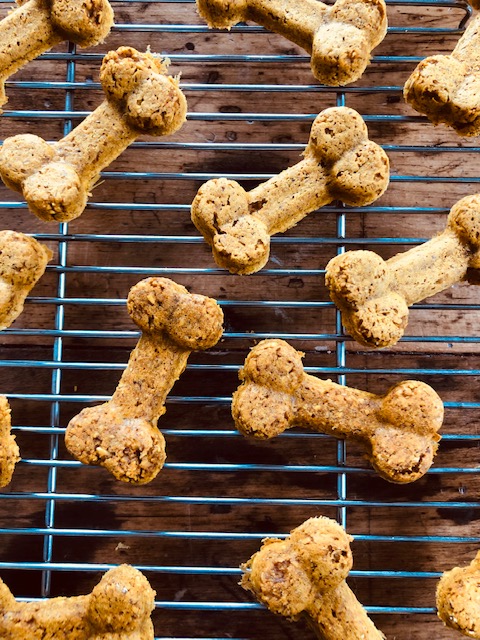 Some may say our dogs are spoiled. I don't know. I mean, isn't it normal for just about every life decision you make to start with how it impacts the dogs? When you're invited out for dinner, isn't your response, "Let me check with my dogs"? Would the household hierarchy be somewhat skewed to find the dogs splayed out on the couch while the humans sit on the floor (true story)?
So it was only obvious that, when I had some leftover pumpkin puree from our favourite muffin recipe (see May 23, 2021 newsletter), my first thought was to make doggie treats! Pumpkin is great for dogs and can be helpful for upset tummies. Oats are well tolerated, and peanut butter (a small amount) is always appreciated! Eggs are well tolerated, and if you wish to make a vegan option (which my dogs preferred) you can always use flax…which is also good for dogs.
These were quick to whip up and very much appreciated. 🙂
Baking time will vary depending on the size of biscuit you make. I have a really cute "dog bone" baking tray which makes rather large biscuits which took 14 minutes at 350 degrees in my air fryer/convection.
Doggie Treats
1 1/2 cups oats
1/2 cup pumpkin puree
2 tablespoons natural peanut butter
1 flax egg (I tablespoon ground flax + 3 tablespoons water, let sit in fridge 10 minutes)
Process oats in food processor until a coarse, flour-like texture is achieved. Add pumpkin, peanut butter and flax (or egg) mixture. Pulse until well blended/incorporated. Spoon onto parchment-lined baking sheet or spoon into formed molds. Bake at 350 degrees for 15 minutes or until golden brown. Cool before serving. Store in air-tight container in fridge or freezer.