02 Dec

Easy Broccoli Potato Spinach Soup

Fall is here, which means more soup! Nothing beats soup for providing comfort on a cold autumn day. This recipe was inspired by a suggestion made by Karen and influenced by what I had on hand. Everything is local, which makes such economical sense, not to mention that it's good-for-you. I tossed this together mid-afternoon in our Instant Pot and enjoyed it for dinner with a nice baguette…delicious!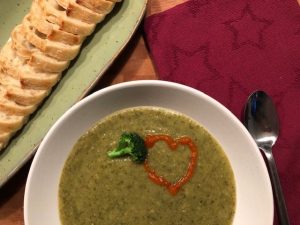 Easy Broccoli Potato Spinach Soup
1 tablespoon oil of choice (I used avocado oil)
1 1/2 cups diced onion
2 – 3 cloves garlic (or to taste)
6 cups chopped broccoli – stems included
4 cups diced potato
5 cups vegetable stock
1 teaspoon salt
2 generous fistfuls of spinach
If using an Instant Pot, sauté onion in oil until softened and translucent. (If using a slow cooker, either skip the sauté step or sauté separately in pan before adding other ingredients).
Once onion has softened, add garlic and continue to sauté for a few more minutes. Switch over to "slow cook" mode and add broccoli, potato, salt and vegetable stock. Cook on high for 3 – 4 hours or on low for 6 – 8 hours. Prior to serving, add spinach and blend using an immersion blender. Enjoy!