16 Jun

Edamame Veggie Burgers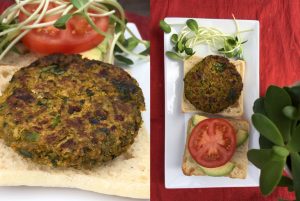 Warmer weather means outdoor casual dining and barbeques – yay!
If you're looking for a veggie option (and I know you are), you may wish to try out these tasty, flavourful edamame burgers. Not only are they tasty, but they're loaded with plant-based protein and fibre. Edamame alone boasts an impressive 9 grams of protein per half cup, 4 grams of fibre, and 15% of your daily vitamin C and iron requirements. Edamame is also free of both saturated and trans fats…..can your gooey beef burger make such claims? Didn't think so 😉
A few notes about this recipe. I'm a big fan of sauteeing onions pretty much any time I use them. I find those that don't tolerate raw onion very well, can enjoy onion when they're sauteed….so for me, it's always worth the extra time. If you choose not to saute first, you may wish to cut back on the amount. Also, I used an egg (from a very happy, well-tended-to chicken) to help bind the patties. If you're wishing for a vegan version, simply substitute by mixing 1 T of ground flax with 2 1/2 T of water – allow to sit for 10 minutes to thicken prior to use.
These remind us of falafels….we enjoyed them the next day cold in wraps, so they're quite versatile.
Edamame Veggie Burgers
2 cups cooked shelled edamame – according to package directions
2 cups cooked rice – we cook our rice in veggie stock
1 cup chopped onion, sauteed in 1 T avocado oil or other heat-tolerant oil *
2 cups roughly chopped, loosely packed spinach
3 cloves garlic
1 teaspoon ground cumin
1 teaspoon smoked paprika
1 teaspoon turmeric
1/2 teaspoon coriander
1/2 teaspoon salt
1 egg **
heat-tolerant oil for pan frying
Pulse cooked and cooled edamame in food processor until resembles coarse pebbles. Add remaining ingredients and pulse until well incorporated. Transfer mixture into larger bowl and mix well by (clean) hands.
Check to see if holds well when formed into patties. If they're not holding well, you may wish to add another egg or egg-substitute.  Once formed into patties, lightly pan fry on medium-high heat for about 4 minutes each side or until lightly browned. Serve with your favourite toppings!