04 Sep

Kind Living Trail Mix
Trail Mix in honour of National Trail Mix Day!
We love these observation days….they're fun and help us tap into creative juices.
This past Thursday, August 30th, was National Trail Mix Day. In recognition of this most auspicious day, we thought we would share with you one of our favourite Trail Mix recipes. Again, as with most things we create, it's super easy 🙂
We feel strongly that every effort should be made to make your own trail mix. Commercially made mixes, for the most part, are more expensive and also have added sugars, salts and fats that are unnecessary.
Another challenge with commercial mixes is the ratios. They tend to have a higher ratio of less expensive and less nutritious candy compared to the more nutritious seeds and nuts. While we all know I have a very strong sweet tooth (or as Robb likes to say "sweet teeth"), you can get the desired sweetness and still have nutrient density. The dried berries in this recipe have protein, fibre, antioxidants, vitamins and minerals…can "smarties" say the same? We also acknowledge that no self-respecting Trail Mix can go without chocolate, so we elected to use some very yummy dark chocolate that we cut in to chunks.
We also chose to lightly roast the pumpkin seeds. This adds a lovely flavour element, but, of course, you can always omit this step. In addition, we used "roasted salted" sunflower seeds…this lends just a touch of salt, which balances out the sweetness. Either way, we hope you enjoy!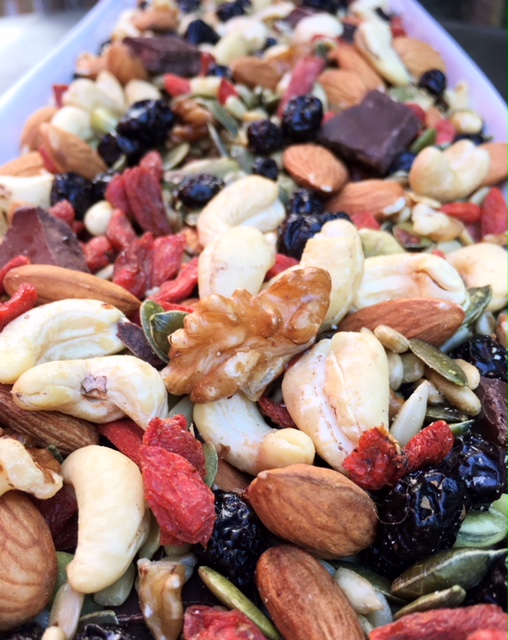 Kind Living Trail Mix
1/4 cup raw walnuts
3/4 cup raw cashews
3/4 cup raw almonds
1/2 cup pumpkin seeds – lightly toasted
1/2 cup salted, roasted sunflower seeds
1/2 cup dried blueberries
1/2 cup dried goji berries
1/2 cup dark chocolate chunks…we used Zazubean Lunatic chocolate mint!
Mix above and enjoy!