14 Mar

Lentil and Rice Loaf

While I certainly don't miss eating meat, there are a few "comfort food" dishes that I miss. One of them is a really good meatloaf. Earlier this week it was damp and cold and I just couldn't warm up. The thought of a hearty, dense meatloaf was certainly appealing. Having never made a plant-based option, I did some searching and found a few recipes for inspiration. Two terrific recipes I drew inspiration from were by The Simple Veganista,  and Straight Up Food. I also wanted to use ingredients I had on-hand. While we were pleased with the end result, it's rather tame in the seasoning department. One of the reasons is that I like to cook lentils in water alone. I had read, and from personal experience, found that cooking lentils in salted water makes them tough. I typically make rice using vegetable broth, but because I was cooking the two together, elected to use water alone. I would suggest adjusting the seasonings to your liking once all the ingredients are mixed prior to putting in the loaf pan, and adjust to your taste.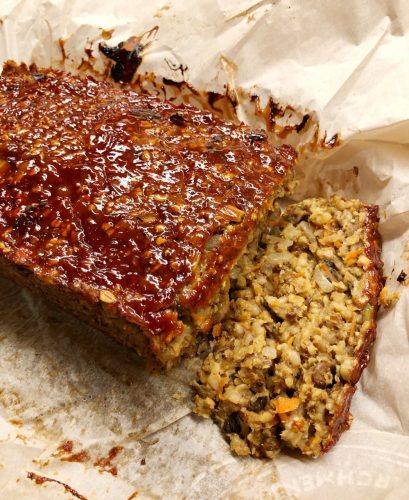 Lentil and Rice Loaf
1 3/4 cup water
1/2 cup rinsed green lentils
1/2 cup short grain brown rice
1 teaspoon onion powder
3 T ground flax seed
3/4 cup water
1 stalk of celery – finely diced (approz 1/2 cup)
1 cup diced mushrooms
1 shredded carrot (approx 1 cup)
1 onion – chopped (approz 2 cups)
2 T olive or avocado oil
2 cloves garlic – minced
1/2 teaspoon cumin
1/2 teaspoon thyme
1/2 teaspoon chipotle powder
1/2 teaspoon onion powder
1/2 teaspoon garlic powder
1/2 teaspoon salt
1 cup quick oats
Glaze
6 T organic ketchup
2 T maple syrup
2 T balsamic vinegar
Combine lentils, rice and onion powder in instant pot (If not using instant pot, combine in saucepan, bring to a boil, then simmer for about 40 – 45 minutes, or until done). Set instant pot to "multigrain" mode.
Meanwhile, combine ground flax seed with 3/4 cup water. Place in fridge for 10 minutes to form "vegan egg" mixture – this will help bind the loaf. Saute onion in oil. Once softened, add remaining vegetables and spice.
When lentils and rice are done, partially mash or use an inversion blender so that the mixture is partially pureed….you're not making soup! Add the oats, sauteed vegetables and flax mixture to lentils and rice. Mix well. Put mixture in parchment-lined loaf pan. Brush top of loaf with a few tablespoons of glaze, reserving the rest for serving if desired. Place loaf in pre-heated 350 degree oven for 45 – 50 minutes. Remove from oven and let sit for a few minutes before slicing. Serve with remaining glaze if desired.