28 Jan

Miso-glazed Roasted Sweet Potatoes

Oh how we love roasted vegetables! They are on a regular rotation in our home. Lately, I've been experimenting with miso, a popular staple in Asian cuisine. Miso is a fermented soy product rich in minerals and vitamins. Because it's fermented, it's also rich in gut-friendly bacteria, essential for a healthy gut biome. We use miso in soups (you know that little cup of soup that comes with your sushi? That's miso soup!) and dressings, and, more recently, I've been making a vegan "miso butter".

Cookbook authors Shalane Flanagan and Elyse Kopecky created a miso butter using regular butter. Wishing to make a vegan option, I simply swapped out butter for coconut oil. This simple butter has a lovely balanced salty/sweet taste which lends itself well to many dishes. We have enjoyed using this in a variety of recipes, recently smearing it on slices of acorn squash prior to roasting. For today's recipe, I warmed the mixture to liquid and used it to toss chunks of sweet potato prior to roasting. Should you make this miso butter, we would love to hear the creative ways you have used it…popcorn anyone?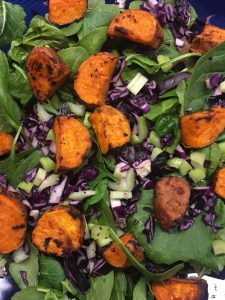 Miso-glazed Roasted Sweet Potatoes
2 lbs of scrubbed sweet potatoes* – cut into 1-2 inch cubes
2 – 3 tablespoons of miso butter (see recipe below) – warmed to liquid
1 teaspoon garlic powder
pinch of salt
Warm miso butter to liquid. Toss sweet potato chunks with miso butter. Place on parchment-lined baking sheet. Sprinkle with garlic powder and a pinch of salt. Roast at 425 degrees. Remove from oven after 15 minutes, gently toss, and return to oven for 8 – 10 minutes. The sweet potatoes should be lightly browned and tender.
You can enjoy these as a side dish or, as in our case, add the sweet potatoes to greens and enjoy a nice, warm salad!
Miso Butter
4 tablespoons of coconut oil
2 tablespoons of Miso
Blend to form a paste. Store in glass container in fridge.
**Whenever possible, please use organic sweet potatoes. I really can't believe the difference in taste. I had purchased some non-organic sweet potatoes and was alarmed at the size (small watermelons – scary) and deeply disappointed with the lack of taste. There really is a difference. I know it's not always easy to shop organic, but this is one vegetable that I find the taste to be particularly noticeable.