19 Feb

(Mostly) Oil-free Butter Bean Hummus

I recently attended and enjoyed a lecture by cardiologist Dr. Shane Williams. He spoke about the science behind a plant-based diet. Out of the gates, he addressed the issue of sourcing protein when eliminating animal sources. In a nutshell, all plants contain varying degrees of protein. In fact, he went on to say that animals rely on plants for their protein, so we don't have to eat muscle to build or maintain muscle.

He also spoke of the importance of reducing oil intake. I have to admit, I'm rather liberal when using oils…watching me use olive oil is much like watching someone water a garden suffering from drought. I love fat. I've also been averse to "low fat" food items as the replacement of fat is usually something less desirable, like sugar…but I'm getting off topic here.

After hearing him talk (and talk, and talk, and talk), I thought I'd experiment with reducing oil in recipes that I've typically been quite liberal with (ahem…all of them). Being inspired by one of "Deliciously Ella's" social media posts about a Butter Bean Hummus, I thought I would experiment with making a (mostly) oil-free version and see if it was still tasty. If you search basic hummus recipes. they often include a shocking amount of oil! One recipe called for 1/3 cup of olive oil – that's over 600 calories – crazy!

For this recipe, I was restricted with what I had on hand, so that meant butter beans, apple cider vinegar, tahini, garlic, smoked paprika, and salt and pepper. The only added "oil" came from tahini. I used 2 tablespoons, which contains 16 grams of fat, which is about 144 calories…significantly less than 600! The overall flavour was quite tasty, and the texture wasn't too dry. You could always add a little more tahini if you wanted it creamier, or add a little of your favourite oil. Adjust seasonings and serve with your favourite veggies. Enjoy!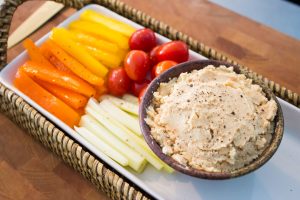 P.S. If you want to see the recipe in action, click here to watch a brief video of us making it!
P.P.S. A great tip I learned from my BFF Deliciously Ella; generously drizzle cut veggies with lemon or lime juice and sprinkle with salt and pepper…makes a huge difference!
Mostly Oil-free Butter Bean Hummus
1 398 ml can of Butter Beans – rinsed and drained well
2 tablespoons apple cider vinegar
2 tablespoons tahini
1/2 teaspoon salt
1/2 teaspoon paprika
1 – 2 cloves garlic
pepper to taste
Process ingredients in food processor or blender. Season to taste and enjoy!