14 Aug

No Bake Maca Balls

This recipe is courtesy of my mad rush to send Dan off with some healthy, nourishing snacks as he was heading out the door on his way to the World Ultimate Club Championships which are being held in Cincinnati Ohio this year.

Sometimes I forget that if my boys are hungry they will figure out how to get fed…Robb reminds me of this constantly. But mostly, feeding my boys is a tangible way for me to express my love for them. When any of my boys are home, I do my best to have food on hand that they will enjoy and hopefully remind them that they are loved, so very much loved.

So back to the No-Bake Maca Balls! I only had 10 minutes or so before Dan had to fly out the door, so a very quick, impromptu recipe was in order. Oatmeal, chocolate chips and peanut butter are obvious go-to's for Dan, but I also wanted to add a little extra protein for tissue repair and maca for its awesome energizing (no caffeine), mineral-boosting, sports-performance enhancing and muscle building benefits. Oh, and they had to be tasty. 🙂

Give these a try if you would like a quick, nutritious and easy-to-make energy ball (or bar) to have on hand. I would recommend storing in an airtight container in the fridge or freezer. I hope you enjoy!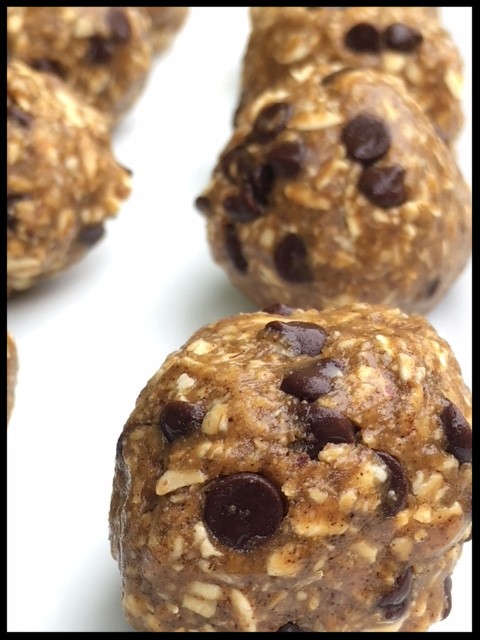 No Bake Maca Balls
1 1/2 cups large flake oats
1 tablespoon maca
2 tablespoons hemp protein powder (or protein powder of choice)
1/8 teaspoon Himalayan salt
1/2 cup natural peanut butter
1/3 cup maple syrup
1/3 cup dark chocolate chips (we like Enjoy Life chocolate chips)
In food processor, add oats, maca, protein powder and salt. Pulse until well incorporated. Add peanut butter, maple syrup and blend well. Add chocolate chips and pulse until mixed in. Roll mixture into balls (12 – 16) and store in fridge or freezer.