05 Apr

Oil-free Nacho Cheese Roasted Chickpeas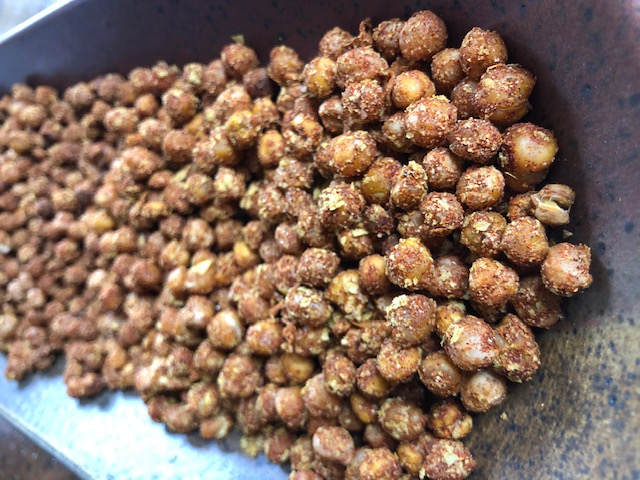 I have always been rather indiscriminate when it comes to my use of oils with cooking. I rarely measure the glug of oil when I saute vegetables. Since I was primarily using "healthy" fats, I wasn't concerned. While I continue to cook with oils, I have started to look at how much I'm using and if I can get tasty, satisfying results without using as much (or any). We have found it quite interesting how often we get satisfying results without compromising taste. Case in point – roasted chickpeas. We regularly roast chickpeas to use on salads and soups as croutons, and simply enjoy having on hand for snacking. They're protein-, fibre-, and mineral-packed nuggets of goodness!
For a while now, we've been making our roasted chickpeas without oil and have found them to retain their "crunch" much longer than when roasted with oils. We don't really measure, simply toss rinsed and dried chickpeas with a little cayenne pepper, onion powder, garlic powder and salt. We throw them in our air fryer (essentially a convection oven with trendy marketing *wink*) at 400 – 450 degrees for 15 minutes, and they're done. We absolutely love them!
I stumbled across this great resource for roasted chickpeas with a variety of flavour options and thought I would share. We tried out the Nacho Cheese combo and loved them….just ask Robb, he devoured them! You will also find Salt and Vinegar, Lemon Pepper, and Ranch in addition to the Nacho Cheese blend. We plan to try them all!
You can find these delicious recipes by The Big Man's World by clicking here.
I made two batches: one using a conventional oven and one using my air fryer. Both turned out well; however, the air fryer batch took considerably less time (15 minutes vs 40) and came out crispier. Aside from that, they were both delicious!