15 Dec

Panko-crusted Air Fryer Tofu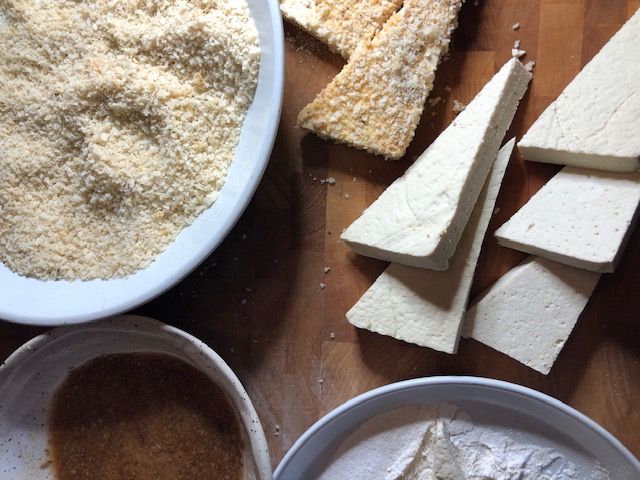 Panko-crusted Air Fryer Tofu
Tofu is on regular rotation at our house, and we typically enjoy our Tamari, sesame-crusted crispy tofu. The other day, as we were out with the pups, we started to brainstorm about new ways we could prepare tofu (I know…just how much more exciting could our dog walks get?). We quickly figured out a way to coat them in Panko bread crumbs, yet not have them be too bland. Hmmm…this could get tricky. We thought it would be helpful to season the bread crumbs and spice up the flax "egg" with some Sriracha, Hoisin and Tamari sauces. We think it worked!
Traditionally, Panko-crusted foods are deep fried, which makes them incredibly yummy but perhaps not the most heart-healthy option. Using an air fryer can give you that crispy texture with a fraction of the oil. For this recipe, we very, very lightly sprayed the tofu before popping it in the oven. The end result was pleasantly crispy on the outside, and chewy on the inside.
Panko-crusted Air Fryer Tofu
1 package extra-firm tofu: rinsed, sliced into desired shape/size and press *details below*
2 tablespoons tapioca flour/starch (or arrowroot starch or cornstarch)
1 teaspoon salt
1 teaspoon garlic powder
1 teaspoon onion powder
pepper to taste
2 tablespoons ground flax
5 tablespoons water
1 – 3 teaspoons sriracha sauce
1 teaspoon tamari or soy sauce
1 teaspoon hoisin sauce
1 cup Panko crumbs
1/2 teaspoon garlic powder
1/2 teaspoon onion powder
1/4 teaspoon turmeric powder
pinch salt and pepper
Spray oil – optional
After rinsing tofu and cutting into desired shapes and sizes, place between 2 tea towels and press. I use 2 baking sheets (one on the bottom, one on top) and then use my cast iron skillet for weight. Press for at least 20 minutes (I often do this earlier in the day to give it lots of time).
Prepare flax "eggs" by combining water and ground flax in a bowl and let sit for about 10 minutes. This will also the mixture to thicken. Add desired amount of sriracha, tamari and hoison.
In a separate bowl, combine tapioca starch and seasonings.
In another bowl, combine Panko crumbs and seasonings.
Dredge tofu slices in tapioca starch combo. Then coat in your seasoned, flax-egg mixture. Then coat in your seasoned Panko crumbs. We used the basket accessory with the air fryer. If using conventional oven, place coated tofu pieces on a parchment-lined baking sheet. Lightly spray with oil – this step is optional. Air fry at 375 degrees for 15 minutes. For a  conventional oven, I would suggest 400 degrees for 20 – 25 minutes. These were so delicious, we made them two nights in a row! They pair up beautifully with "Oh She Glows" Vegan Caesar Salad!