15 Dec

Plant-based Cream of Mushroom Soup with Crispy "Pancetta"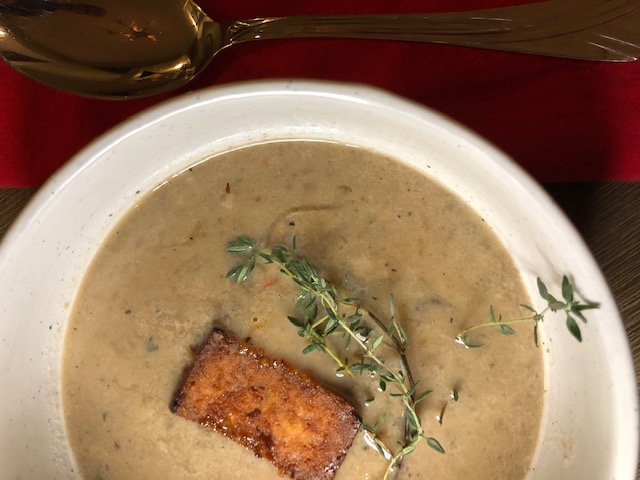 Plant-based Cream of Mushroom Soup with Crispy "Pancetta"
I quite enjoy the beautifully produced Food & Drink magazines available through LCBO stores, although often the recipes don't exactly fit with our (mostly) plant-based diet. In the most recent issue, I discovered a caramelized onion and mushroom soup recipe with pancetta crisps. Intrigued, I looked more closely and just reading the recipe threatened cardiac arrest! Starting with 2 heaping tablespoons of butter and ending with 35% whipping cream! After my heart rate settled, I thought I would try to "veganize" the recipe. I used olive oil instead of butter and cut the amount in half. Rather than using whipping cream, I swapped it for coconut milk (full fat, but plant-based); and finally, instead of pancetta crisps, I found a plant-based tofu substitute.
We quite enjoyed this yummy, savoury soup and while certainly rich, it didn't leave us with a heavy gut bomb. If you want to try the original recipe, it is in the Holiday 2020 edition of Food & Drink…..but please don't let your cardiologist know. 😉
Are there recipes you have converted to be plant-based? I would love to hear about your favourites!
For the "pancetta", I modified this recipe from The Pesky Vegan, which you can find by clicking here.
Plant-based Cream of Mushroom Soup with Pancetta
1 tablespoon olive oil, or preferred oil
2 sweet onions, thinly sliced = 3 cups
1 lb of cremini mushrooms, sliced
1 teaspoon salt *or less*
1/2 teaspoon fresh pepper
2 – 3 cloves garlic, minced or thinly sliced
1 -2 tablespoons fresh thyme, chopped (original recipe called for 1 T, but I used 2)
4 cups vegetable broth *low sodium if available*
1 cup full-fat canned coconut milk
Tofu pancetta *see link above*
Warm oil over medium heat in large pot. Add onions and cook while stirring for about 4 minutes until onions start to wilt. Reduce the heat to low and cook while stirring often, for about 30 minutes or until onions start to caramelize. This takes a bit of patience, but is so worthwhile! Don't rush your onions!
*
Increase the heat to medium-high and add mushrooms, salt and pepper. Cook while stirring for about 10 minutes or until mushrooms release their liquid and start to brown. Add garlic and thyme and cook while stirring for about 1 minute.
*
Pour in stock and bring to a boil, scraping up any brown bits stuck to pot. Reduce heat to a gentle boil and stir occasionally for about 20 minutes or until soup has reduced in volume and flavours are well blended.
*
Scoop out about a cup of onion/mushroom blend and set aside. Add the coconut milk and puree the remaining soup with immersion blender or blend in batches with your blender. Return the onion/mushrooms to soup.
*
Serve the soup with plant-based pancetta and fresh thyme sprigs as garnish.
*
Enjoy!