07 May

Quinoa Bowl with Ginger Garlic Tamari Dressing

This recipe was inspired by Coco Morante's book Vegan Instant Pot. There's a yummy quinoa recipe calling for a lime cilantro dressing. Since I didn't have any cilantro, I decided to use my go-to Ginger Garlic Tamari Dressing instead. I also didn't have most of the ingredients listed, except for the quinoa. So, Coco, please accept my apologies that my take is entirely different from yours, but thank you for the inspiration!

I was intrigued to make quinoa using my Instant Pot. I typically prepare quinoa using a stove-top method and was looking forward to this option. Having used both techniques, I have to say the Instant Pot scored high in my books. I loved that it was essentially foolproof, and the quinoa was not mushy or crunchy, but just right.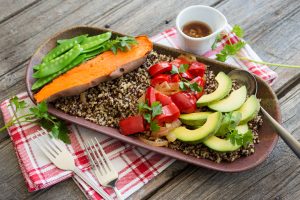 Quinoa Bowl with Ginger Garlic Tamari Dressing
For this recipe you will need:
Approximately 1 inch ginger, minced = 1 tablespoon
3 cloves garlic = 1 tablespoon
3 tablespoons Tamari
3 tablespoons roasted sesame oil
3  tablespoons avocado oil
2 tablespoons maple syrup
2 or 3 sweet potatoes
1 red pepper
1 or 2 good sized onion(s)
Handful of snow peas
1 good sized avocado
Ginger Garlic Tamari Dressing
1 tablespoon freshly grated ginger using a microplane *approximately*
1 tablespoon chopped garlic *approximately*
3 tablespoons toasted sesame oil – we like Eden Organic
3 tablespoons avocado oil
3 tablespoons Tamari
2 tablespoons maple syrup
Blend above ingredients in small blender or food processor. Please adjust ginger and garlic according to personal preferences.
Roasted Sweet Potatoes
Scrub 2 or 3 sweet potatoes. Pierce with fork. Roast at 450 degrees for 30 minutes or until done…should yield easily when pierced with fork.
Quinoa
Rinse 2 cups of quinoa well. This will remove residue which can cause bitterness. If using Instant Pot, place 2 cups quinoa and 2 1/2 cups vegetable broth in instant pot. Set to manual. Adjust time to 10 minutes. Adjust pressure to "low". Once cooked, allow pressure to ease off naturally. After 10 – 15 minutes, release pressure. Quinoa will be done and perfect! If using stovetop method, prepare according to package directions.
Sauteed onion and red pepper
Saute one chopped onion in olive or other heat-tolerant oil. Once onion is translucent, add one chopped red pepper. Saute until softened, but don't overcook peppers!
Blanched Snow Peas
Trim the woody spines from snow peas. Toss a handful of snow peas into boiling water for no longer than 45 – 60 seconds. Drain and rinse in cold water to stop the cooking process. Set aside.
Avocado
Peel and slice avocado. Set aside.
Assembly
Spoon quinoa into bowl or other serving dish. Add half of sweet potato, snow peas, peppers, onions and avocado. Drizzle with dressing and enjoy!