03 May

Roasted Cauliflower Curry Coconut Soup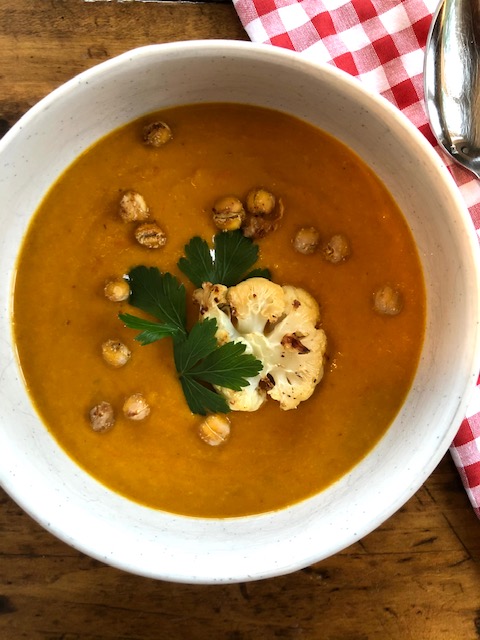 April is a funny month. We can be graced with warm, sunny days filled with the promise of summer, and just when we feel it's safe to store away our winter coats, bam – we get hit with snow!
To me, rainy days in April feel colder than a snowy day in March. I think my body has transitioned to warmer weather regardless of what Mother Nature has in mind.
So, it's likely no surprise that I was in the mood for a nice warming soup this week! Perusing the fridge, I took stock of what I had on hand. Cauliflower, onion, cherry tomatoes, carrots and curry paste – we're off to a good start!
I always prefer roasting cauliflower when making soup and thought I would throw in the cherry tomatoes halfway through. Roasting brings out lovely flavours and is worth the extra prep time.
For this recipe, I took advantage of the "soup" mode on my Instant Pot. This could also very easily be made stovetop in a stock pot.
We topped off the soup with our favourite roasted chickpeas and enjoyed a warming meal on a cold, rainy day. If you try this, I hope you enjoy!
Roasted Cauliflower Curry Coconut Soup
1 head of cauliflower – cut into 1/2 inch thick pieces
1 1/2 cups cherry tomatoes – sliced in half
1 teaspoon oil (I used avocado oil)
1/2 teaspoon salt
fresh ground pepper
1 onion, diced – approx 1 cup
1 teaspoon oil
2 cups sliced carrots
1 teaspoon minced ginger
2 cloves garlic, minced
1 teaspoon turmeric
3 tablespoons red curry paste
4 cups vegetable stock
1/2 teaspoon salt
1 tablespoon maple syrup
1 can coconut milk
Toss cauliflower with oil and place on parchment-lined baking sheet. Sprinkle with salt and pepper.
Roast at 425 degrees for about 20 minutes. Remove from oven, flip cauliflower pieces and add tomatoes. Roast for another 20 minutes or so. You want the cauliflower to start to caramelize. Reserve a few pieces of cauliflower for garnish.
While the cauliflower is roasting, sauté onion and carrots. Add remaining ingredients through to maple syrup and set on "soup" mode for 20 minutes if using an Instant Pot, or bring to a boil if using a stockpot on stovetop and then let simmer for 20 – 30 minutes or until carrots have softened.
After "soup" mode is done, or carrots have softened if using stovetop method, then add your roasted cauliflower and tomatoes. Add coconut milk and blend using an immersion blender (or transfer to blender) until desired consistency is achieved.
Top with reserved cauliflower, fresh herbs, roasted chickpeas and enjoy!
*For roasted chickpeas, simply drain and rinse a can of chickpeas, dry with a tea towel, toss with a little cayenne pepper, garlic powder, onion powder, and salt and pepper. I use my air fryer at 450 degrees for about 12 minutes.