31 May

Roasted Chickpeas and Veggies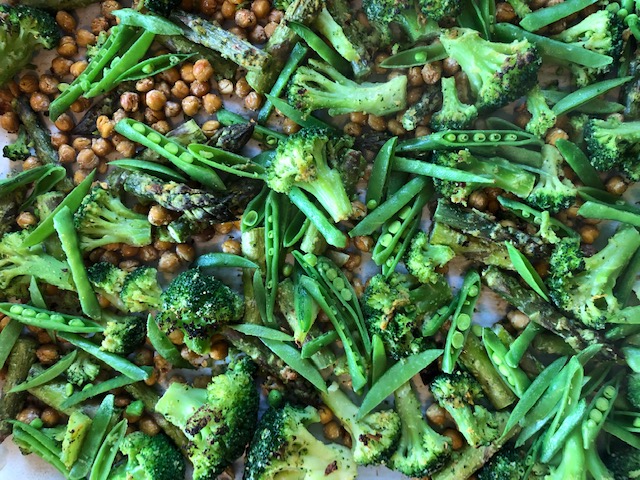 A frequently overlooked, if not maligned, category of food at the grocery store is frozen fruit and vegetables. They are often considered second rate when compared to their "fresh" siblings. In reality, however, they are often both more cost-effective and nutrient-dense. They are typically picked at their peak of ripeness and flash frozen (sometimes blanched first), which retains nutrients efficiently. When considering produce that has to travel long distances before ending up at the store, the net nutrient density of frozen foods is frequently greater. Of course, nothing beats farm-fresh, and as we are approaching our growing season, I strongly encourage you to seek out a local or local-ish farm to support and perhaps consider one of their subscription options. But when you are unable to support your local farmer, perhaps consider frozen, budget-friendly options.
The above praises notwithstanding, I have often been challenged with cooking frozen vegetables. They're terrific if used for soups or curries, but sometimes end up being mushy or watery when prepared as a side dish….not my favourite.
Seeking out the advice of cooks with far greater knowledge and skill, I learned that you can roast frozen vegetables successfully by following a few tricks:
roast at a high temperature (450 degrees), and
place the frozen vegetable on a heated pan (I simply tossed the parchment-lined pan in the oven as it was pre-heating – this trick will help the veggies crisp up).
Buoyed by this helpful advice, I wanted to create a sheet-pan dish that would be a complete meal. I thought of combining one of our staples, roasted chickpeas, with a lonely bag of frozen broccoli, local fresh asparagus and another of our other standbys, sugar-snap peas.
Knowing that each item has its own ideal roasting time, I had to pace things out a bit. I started with the chickpeas; then, after 15 minutes, I added the frozen broccoli and fresh asparagus. Then, for just a few minutes at the end, I added the sugar-snap peas. With the various seasonings and nutritional yeast, it was quite a flavourful meal that was not one bit soggy – a win!
Stage One – Roasted Chickpeas
Drain, rinse and dry one can of chickpeas. I simply use a clean tea towel and gently rub dry. This will release the skins which I mostly discard as they tend to burn while roasting. Toss the chickpeas with
1/4 teaspoon salt
1/2 teaspoon garlic powder
1/2 teaspoon onion powder
1/8 teaspoon of cayenne *optional*
Place on (heated) parchment-lined baking sheet and roast for 15 minutes at 450 degrees.
Stage Two – Broccoli and Asparagus
Toss frozen broccoli (I used a 500 gram bag) and trimmed asparagus chunks (I had 11 stalks – use what you have) with:
1/4 cup nutritional yeast
1 – 2 tablespoons olive or avocado oil
1/2 teaspoon salt
2 tablespoons maple syrup
1/4 teaspoon red pepper flakes *optional*
pepper to taste
Add to chickpeas after they have roasted for 15 minutes. Return to oven and roast for another 15 – 20 minutes.
Stage Three – Sugar Snap Peas
Trim and slice in half lengthwise 2 cups sugar-snap peas. Remove veggie mix from oven at end of roasting time and add sugar snap peas. Return to oven for about 2 minutes. If desired, place under broiler (rack closer to element) for about 2 minutes to further crisp up (watch carefully!).
Stage Four
Enjoy!