13 Feb

"Sausage" and Kale Pasta with Vegan Tomato Cream Sauce

So we don't eat meat. We rarely, if ever, crave it. We have, however, on occasion, enjoyed these ridiculously delicious, plant-based sausages by Beyond Meat. They are made from pea protein, and we believe they taste better than animal-based sausages. Having said that, they are processed (as are all sausages), so keep consumption to a minimum. The verdict is in. We are better off with less processed food. Period.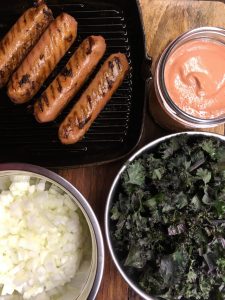 Discussing the newsletter earlier in the week, I suggested making a pasta recipe using the Beyond Meat sausages and creating a vegan tomato cream sauce to go with it. Kelsey and Robb agreed, so I went to work. Wishing to make it as easy as possible, I did my best to eliminate time-consuming steps. While it may take more than 15 minutes to prepare, we feel it's worth the effort. We hope you agree.
"Sausage" and Kale Pasta with Vegan Tomato Cream Sauce 
Tomato "cream" sauce
1 28 ounce can of organic diced tomatoes
1/2 cup raw cashews
1 tablespoon balsamic vinegar
1 teaspoon maple syrup
1/2 teaspoon salt
1/2 teaspoon dried basil
1/2 teaspoon dried oregano
1/3 bunch of kale, washed and "ribs" removed
1 onion – diced
2 cloves garlic
1 tablespoon coconut or avocado oil
4 Beyond Meat sausages
454 grams pasta of choice – we used penne
To prepare the sauce, combine ingredients in high speed blender. Adjust seasonings according to preference. We used less as sausage was seasoned, however you could definitely add more! You may want to add a bit of water to thin out your sauce if you find it's too thick for your preference. Set aside until ready to use.
Thinly slice kale to make "ribbons". Saute onion in oil until translucent and it starts to lightly brown. Add garlic. Add kale. Saute until kale softens.
We used a cast iron pan with ridges that lend itself well to "grilling" the sausages. Grill sausages, turning frequently for even browning. Once cooked through, slice the sausage thinly.
Prepare pasta according to package directions. Drain.
Assemble: Add tomato cream sauce to sauteed vegetables. Add pasta and toss well. Add sliced sausage. Enjoy!