10 Jun

Strawberry Chia Coconut Creamsicles

So, it started with organic strawberries. I get excited when I happen upon organic strawberries. Berries tend to be heavily sprayed with chemicals and can have a heavy pesticide residue. My excitement dipped a bit when I got home, however. Upon closer inspection, the berries looked like they wouldn't last long. I wanted to be sure not to waste them (don't you just hate wasting food?), so the logical thing to do was to make a dessert. 🙂

Making your own desserts is economical (yay) and lends itself well to portion control (also yay). The research is in, folks; the bigger the bag of chips, the more you eat.

For both of the above reasons, I really like making frozen popsicles/creamsicles where I can cram a lot of goodness, sneak in some superfoods and avoid excessive sugars, stabilizers and other junk…plus, they take seconds to make!

I added a tablespoon of chia seeds to this recipe (could easily make that 2 tablespoons) to help thicken and stabilize the bars naturally. Chia seeds also add protein, fibre, minerals and plant-based omega 3 fats. I encourage you to add your sweetener (if using) a teaspoon at a time…the sweetness of fruit can vary significantly, so taste as you go so you don't overdo it.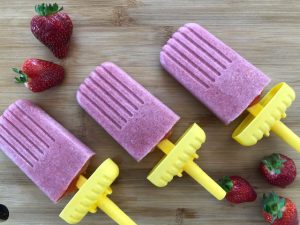 Strawberry Coconut Milk Creamsicles
2 cups (approximately) of washed, hulled and sliced strawberries
1 can of full fat coconut milk
1 tablespoon chia seeds
1 tablespoon + 1 teaspoon maple syrup (adjust to your preference)
Add berries, coconut milk and chia seeds to blender and blend well. Add maple syrup one teaspoon at a time until desired sweetness is achieved. Pour into cute popsicle molds and freeze for several hours until completely frozen. Enjoy!