03 Jun

Superfood Fudgesicles

A popular item we carry in the boutique is liquid chlorophyll. Typically derived from alfalfa, chlorophyll added to water is an "easy upgrade". Chlorophyll is very similar in composition to our own haemogloblin, which is why it's often considered a blood builder. It's also rich in nutrients and is often referred to as an internal deodorant. I like adding chlorophyll to my water because I find it refreshing, and it encourages me to take steps to stay hydrated. You will often find versions of chlorophyll that are flavoured with mint, apple or lime-basil. But did you know there's a chocolate version?

Kelsey suggested making a frozen treat out of the chocolate chlorophyll we had at the boutique. This got me thinking…coconut milk, banana, cacao nibs, cacao powder, maple syrup…yum!

I simply added all of the ingredients into our high speed blender, poured into popsicle molds and waited a few hours. They were tasty, not too sweet, refreshing and full of goodness! The next time I make these, I may skip adding the banana and add a little more cacao powder. If you try these, please give us your feedback!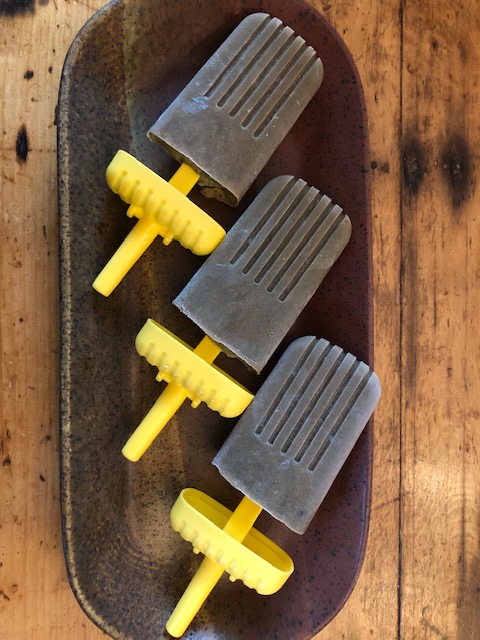 Chocolate Chlorophyll Fudgesicles
1 can full fat coconut milk (we got ours at our local Refillery District)
1 banana
2 tablespoons chocolate chlorophyll (we used Pure-Le Natural…available at yours truly)
2 tablespoons raw cacao powder
1 tablespoon maple syrup
1 tablespoon cacao nibs
Add first 5 ingredients to your high speed blender. Blend until well incorporated. Add cacao nibs. Pour into popsicle molds. Freeze for several hours until firm and frozen. Enjoy!