08 Mar

Sushi Bowl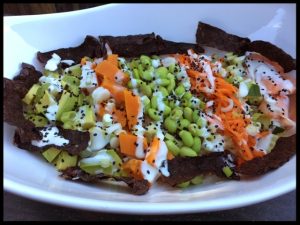 One of my dearest high school friends is admittedly more of a "food assembler" than "master chef". While she has always placed a premium on healthy meals for her family, the whole cooking thing did not bring much joy or tap into her creativity. You can only imagine how thrilled she was when she discovered the service called Chef's Plate, which delivers the exact ingredients with a step-by-step recipe for interesting, fresh and healthy meals. Recently, she proudly shared one of the recipes that was sent to her, and it was absolutely delicious. I have tried to recreate it since using my sketchy memory as a guide. The approach I took was "What sushi rolls would I normally order?" to form the toppings (sweet potato, avocado, cucumber, edamame, pickled ginger…). It was fun and really, really good!
So while I certainly can't take credit for this beauty, I encourage you to get playful with ingredients and toss it on a pile of rice – have fun!
Joanne's Sushi Bowl
Rice
1 cup sushi rice
1 1/2 cups water or stock
Cook rice as directed, then toss with:
1 – 2 tablespoons rice wine vinegar
1 – 2 tablespoons tamari, coconut aminos or soy sauce
Toppings
avocado
roasted sweet potato
steamed edamame
diced cucumber
shredded carrot
chopped green onion
sunflower sprouts
black sesame seeds
toasted nori *see recipe below*
Wasabi Mayo
1/2 cup mayo or veganaise
1 tablespoon water
1/4 – 1/2 teaspoon wasabi powder…or more if you're a mad man!
Blend well….ideally put in one of those impressive sauce squeeze bottles so you can finish it off like a rock star!
Toasted Nori Sheets   
*credit for this recipe goes to the kitchen, and it makes the crispiest nori crisps ever!
1/4 cup water
1 – 2 tablespoons wasabi powder (or less if you're like me and a bit of a wasabi baby)
sea salt
nori sheets
Fold nori sheet in half and form a crease. Open sheet and brush one half with wasabi water, then sprinkle with salt. Fold again, and brush once more with water. Cut (scissors are much easier) into 6 strips. Place on baking sheet and bake at 250 degrees for 12 minutes. Let cool. These will stay nice and crispy with this method!
Assemble the sushi bowl: place rice in bowl and add toppings. Drizzle with wasabi mayo and sprinkle with black sesame seeds. You may wish to add more rice wine vinegar or tamari as desired. Enjoy!