24 Jun

Sweet Potato Quinoa Bowl with Vegan Feta

I have people to thank for this recipe. First, I was inspired by a recipe Tara O'Brady posted in last Saturday's Globe and Mail. I loved the idea of roasted sweet potato, kale and feta. I wanted to make it less of a salad and more of a bowl, so I increased the quiona. I also elected to do a mix of greens as they can really add additional elements of taste…arugula is brilliant for its peppery, slightly bitter taste. I like to balance savoury, sweet, salty, bitter and sour to really give our taste receptors (see? I'm obsessed with receptors!) a workout. Not to go on a tangent, but I feel too often we're eating just sweet and salty. Because we're not getting the full spectrum of tastes, we're not satiated; therefore, we may be inclined to eat more to compensate. Let's just call this Sue's gut instinct/opinion more than scientific fact. (wink).

I also thought I would make this salad vegan by making feta out of tofu. Oh my goodness; it was so very easy and quite delicious (although I was a bit distracted and may or may not have followed the actual recipe…but I encourage you to!) After making this, it also occurred to me that, not only is the tofu feta dairy-free, but it's incredibly cost-effective. It's less than half the price of purchasing cow or sheep feta, so there's that! The super easy and delicious tofu feta recipe can be found by clicking here. Thank you, Erin Ireland, for the share!

Finally, I elected to pressure cook my quinoa in my instant pot. It. was perfect. If you have an instant pot, I encourage you to give this method a try. Otherwise, use your favourite technique, but double the quinoa so that you have a healthy base for a meal later in the week. This batch cooking really saves the day, especially when I have evening classes! Thank you, Megan, for the Instant Pot Quinoa recipe (you can find it by clicking here).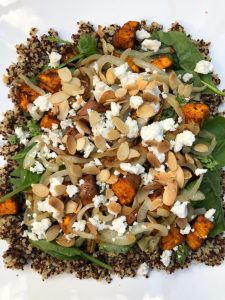 Sweet Potato Quinoa Bowl with Vegan Feta
1 good sized onion sliced into half moons
Extra virgin olive oil or avocado oil for sautéeing onion and tossing sweet potato
1 large sweet potato cut into cubes (leave skin on if organic)
1/3 cup almond slices
2 cups cooked quinoa (you may have leftovers….we're big eaters)
1/2 cup of feta – crumbled
4 cups mixed greens (I used kale, spinach and arugula)
1/2 teaspoon smoked paprika
salt and pepper to taste
1/4 teaspoon chipotle powder
3*2*1 Balsamic Vinaigrette
3 tablespoons olive oil
2 tablespoons balsamic vinaigrette
1 tablespoon maple syrup
1 clove garlic – minced
1 teaspoon Dijon mustard
pinch of salt to taste
Preheat oven to 425 degrees.
Sauté sliced onion in oil until they soften and start to gently caramelize.
Toss sweet potato cubes with olive oil, smoked paprika, chipotle (if using) and salt and pepper. Place on parchment-lined baking sheet. Sweet potatoes should be done in 15 – 20 minutes…check and turn occasionally.
When the potatoes are done, remove and set aside, and lower temperature to 375 degrees. Using same parchment-lined baking sheet, add almonds and roast for 5 – 7 minutes until lightly browned and fragrant.
Cook Quinoa using preferred method.
Assemble
In large bowl, add quinoa. Layer greens, onion, sweet potato, almonds and feta. The heat of the onions and sweet potatoes will gently wilt the greens. Drizzle with dressing to taste. Gently toss and enjoy!