25 Sep

Tex-Mex Black Bean Soup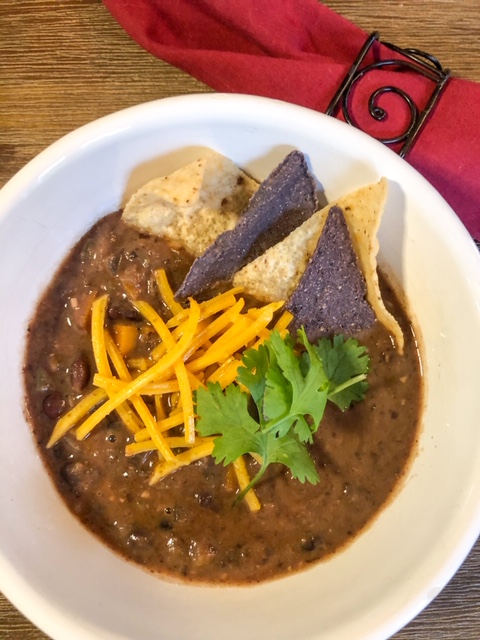 I find it interesting how often an idea will come to me while I'm out for a daily walk with the pups. The meditative nature of being outside in the forest seems to create space for ideas to emerge and percolate. While out the other day, my thoughts started to wander – as they often do – to what we would have for dinner. It was rather brisk out, so I gravitated towards soup, one of my favourite fall meals. I had also been discussing The Blue Zones with one of my boys, and how daily consumption of beans was linked to longevity. When I mentioned to Robb, "How about a black bean soup?", his initial response was "ugh". Buoyed by his enthusiastic response,  I then tried to "sell" it by suggesting using our "go to" Tex Mex seasonings and dressing it up with vegan cheese, some tortilla chips and a sprinkle of cilantro. He started to warm up to the idea. 🙂
Getting back to the beans…in Dan Buettner's book The Blue Zones, he highlights longevity strategies enjoyed by members of  the world's oldest and most vibrant populations:
Eat 4-6 vegetable servings daily
Limit intake of meat
Showcase fruits and vegetables – *make them visible*
Lead with beans or tofu – *a cornerstone of lunches and dinner*
Eat nuts every day *serving size 1-2 ounces per day*
Tex-Mex Black Bean Soup
2 14 oz cans of black beans – rinsed well
1 tablespoon olive oil
1 onion – diced
1 carrot – diced
2 ribs of celery – diced
2 cloves garlic – minced
2 cups of vegetable broth
2 teaspoons chili powder
1 teaspoon cumin
1/2 teaspoon coriander
1/2 teaspoon smoked paprika
1/4 teaspoon red pepper flakes
1/2 teaspoon salt
Optional Serving Toppings
Shredded cheese – we used vegan
Cilantro or other fresh herbs
Tortilla chips
Yogurt or sour cream – plant or dairy based
I prepared this soup using my Instant Pot. This soup could be made using a slow cooker or stock pot.
I sautéed the onion in olive oil until it started to soften. I then added the celery and carrots. After several minutes, I added the garlic and spices. After a good stir, I added the black beans and vegetable broth. I set the slow cooker mode to low and left it for the rest of the day. For serving, I portioned some of the soup in the blender and blended until smooth. I then added it back to the remaining soup. You could also use an immersion blender and blend until desired consistency. For serving, we added a few tortilla chips, some vegan cheese and a sprinkle of cilantro. There were no leftovers…it was that good!