13 Oct

Vegan Mushroom Tart

Oh my goodness I just love sauteed mushrooms, and when combined with onion, fresh thyme, balsamic vinegar, red wine, garlic and Swiss cheese I'm in heaven! Earlier this week I had a craving for this magical combination. My challenge was to make a vegan version which could then be paired with your base of choice: pizza dough, puff pastry, pie shell, etc. Since I was short on time, I elected to use a pre-made pizza round which worked out really well. This could make a nice appetizer, or be part of meal. We paired ours with the roasted butternut squash from last week's newsletter.

To make this more plant-based, I swapped out butter for olive oil, and found a really nice vegan Swiss cheese to replace regular dairy-based cheese. Also, have no fear, there was no swapping out the red wine….you can only ask a girl to do so much!

Should you give this a try I really hope you enjoy it….Robb, Kelsey and Holly did!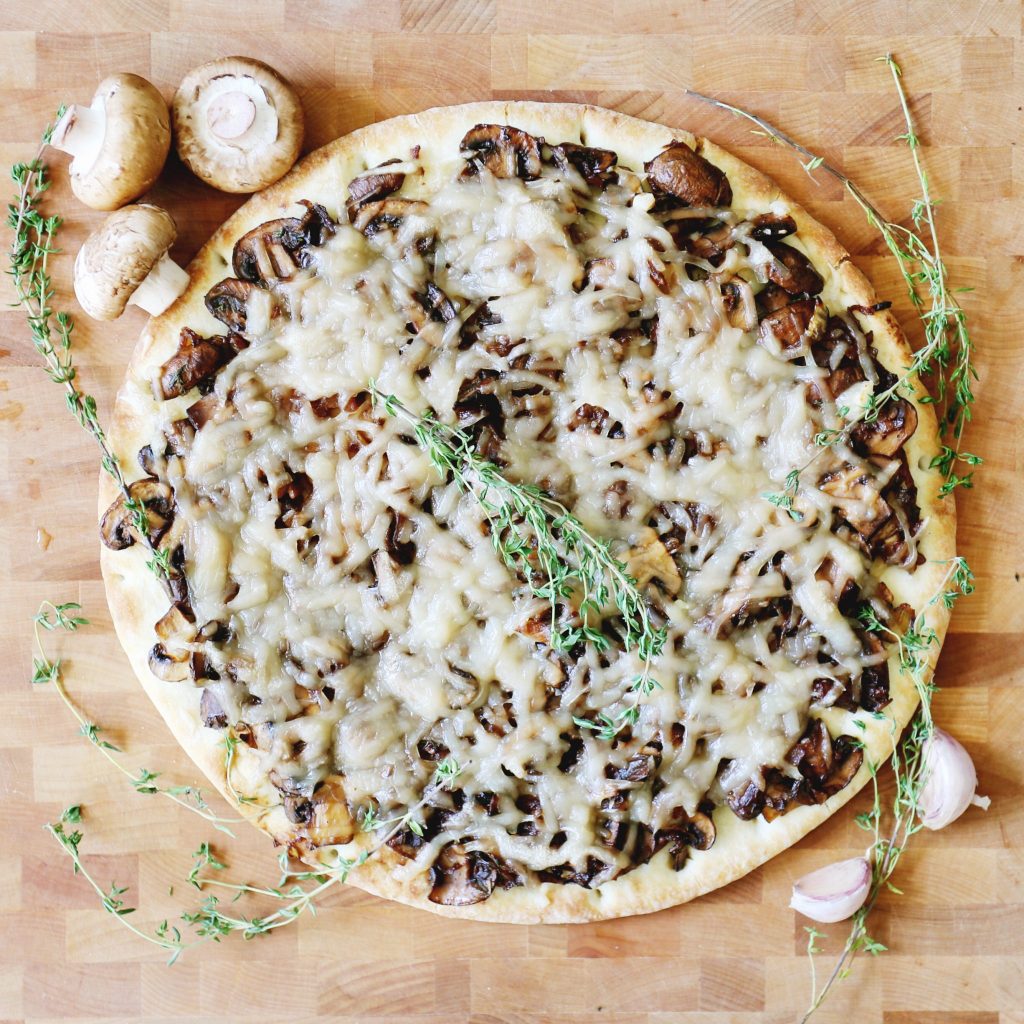 Mushroom Tart
1 sweet onion – sliced in thin half moons
4 cups sliced mushrooms
1 T olive oil
2 cloves garlic – minced
2 teaspoons fresh thyme (strip leaves from stem and lightly chop)
1 cup shredded Swiss cheese (I used Gusto from the local grocery store)
1/4 teaspoon salt
2 T balsamic vinegar
2 T red wine (I used a full bodied Shiraz)
Base of choice: I used a store bought pizza shell, however puff pastry would be yummy, or homemade pizza dough, or even Naan!
In saucepan saute onions until they start to caramelize. Add garlic and mushrooms. Mushroom will start to release liquid…continue using spatula so that onions and mushrooms don't stick. Add chopped fresh thyme. Add balsamic and wine and continue stirring. The mixture will be very fragrant and mushrooms and onions a lovely golden brown. Season to taste, adding more salt and pepper as desired.
Top base with mushroom mixture. Sprinkle with shredded cheese. Bake in 425 degree oven for about 10 minutes, or until cheese is bubbling nicely. Let cool for a few minutes prior to serving.