04 Nov

World's Easiest Slow Cooker Applesauce

This recipe is courtesy of Doug for generously gifting us with a bounty of apples, and Janet and Ruth Ann for their helpful suggestions of how they make applesauce. This recipe is ridiculously easy, needing only two ingredients and a slow cooker (or instant pot).

We are lucky to live in a region with an abundance of apples. Without opening up a can of (local) worms, I am of the opinion that eating locally grown produce is how we're meant to eat at the cellular level. It's wonderful and delicious and a privilege to eat exotic foods from around the world, but our DNA reflects the region we hail from. In addition to being healthy, eating locally is far less taxing to the environment. Those apples don't have to fly thousands of miles to reach our kitchens or our bellies.

So this all started when I brought in a basket of Doug's apples to share with students. Janet and Ruth Ann commented on how they use their slow cookers to make applesauce and/or apple butter. As Janet said, "I just fill my 28-year old slow cooker with as many chopped apples as it will take and add lots of cinnamon. That's it." Ruth Ann added, "Once it's cooked, use your immersion blender and blend until it becomes apple butter." Yum!!

Intrigued, I just had to try it for myself. I decided to not to peel the apples so as to benefit from the added fibre and nutrients. If the apples had pesticides, however, I would suggest peeling them. I removed the seeds and cut the apples into chunks. It was roughly 10 cups. I added a heaping tablespoon of cinnamon, set the slow cooker on low, and waited (patiently, of course). By early evening, the house had an intoxicating aroma of baked apples and cinnamon. Oh my! We decided to just eat the apples without blending. (And we may or may not have paired them with ice cream.) The next morning, I took my handy immersion blender (honestly, is there a better kitchen appliance?) and whipped it into a delicious, smooth sauce. Don't let looks fool you. It may not be the prettiest sauce you'll find, but the inclusion of the apple peel and a hearty amount of cinnamon was responsible for the colour. Totally, 100% worth it!

This recipe wins for so many reasons:
delicious
nutritious
easy
local
economical
no added sugar
no added preservatives, colours, flavours
This really is a "studio recipe" as it wouldn't have come together without everyone's input. Enjoy!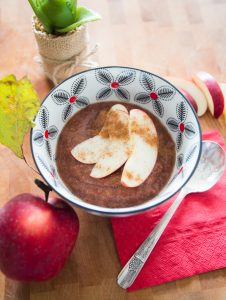 World's Easiest Slow Cooker Applesauce
10 cups or so of cored, chopped apples (if heavily sprayed, peel the apples)
1 tablespoon of cinnamon
Place apples in slow cooker. Toss with cinnamon. Set slow cooker on low for 6 – 8 hours or medium for 3 – 4 hours.
When apples are tender, either enjoy as is or use an immersion blender to make a smoother sauce. Store in sealed container in fridge for up to ten days or freeze for longer storage.