13 Mar

Yummy Thai Salad

If there's a Thai salad on the menu at a restaurant, there's a good chance I'll order it. I love the variety and texture of vegetables, and I love a dressing with toasted sesame oil.

Recently, I tried to replicate a recipe going on memory, and, while not exactly like my favourite local vegan restaurant's, we all enjoyed it!

There's an ever growing body of scientific evidence to support a plant-based diet, but that doesn't mean you eat nothing but corn and potatoes. As my friend Farrah says, you don't need to "demonize" any one particular food; just have lots of variety and minimal processing. Good advice.

This recipe is rich in colour, texture and variety…not to mention loaded with fibre, protein (yes, you read that correctly!), vitamins, minerals and plant-based fats (the good ones). If you try it, I really hope you enjoy it!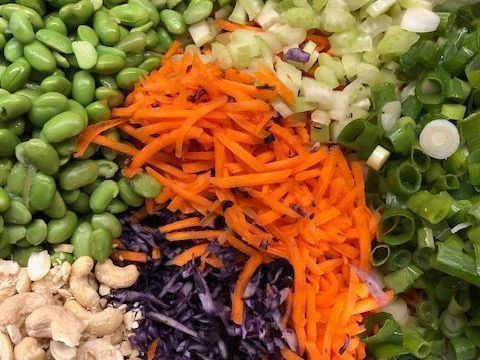 Thai Salad
2 cups shelled edamame – cooked according to package directions
1/4 wedge of purple cabbage – shredded
2 carrots – shredded
2 stalks celery – finely chopped
1/2 raw cashews – chopped
4 green onions – chopped
Thai Salad Dressing
1/4 cup avocado oil
1 – 2 cloves minced garlic
2 tablespoons tamari or soy sauce
2 tablespoons apple cider vinegar
2 tablespoons maple syrup
1 tablespoon toasted sesame oil
2 teaspoons freshly grated ginger
1 tablespoon fresh lime juice
Toss salad ingredients in large bowl and dress with desired amount of dressing. Enjoy!